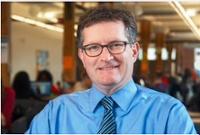 Robert Balogh

PhD, MSc, BHSc
Associate Professor
Faculty of Health Sciences
Contact information
Shawenjigewining Hall - Room 434
North Oshawa
2000 Simcoe Street North
Oshawa, ON L1G 0C5
905.721.8668 ext. 2602
---
Research topics
Intellectual disability
health services, primary care
preventable hospitalizations
dual diagnosis
health disparities
Background
Dr. Robert Balogh graduated with a Physiotherapy degree from McMaster University in Hamilton, Ontario in 1993 and has used his health professional background in clinical, research and teaching environments. He received a Master of Science in Epidemiology from Queen's University in Kingston, Ontario in 2003 and a PhD from the University of Toronto in 2008. He recently completed a post-doctoral fellowship at the Centre for Addiction and Mental Health and at the Institute for Clinical Evaluative Sciences, both located in Toronto, Ontario.
Current Research
Dr. Balogh is currently the leader of a research project entitled Key elements of successful housing for individuals with developmental disabilities and exceptional behavioural needs: Useful space designs and supportive residential models (funded over two years by the Ministry of Children, Community and Social Services). The research team refers to it as Successful Housing Elements for Persons with Developmental Disabilities (SHEDD).
Background:          
A number of adult Ontarians with developmental disabilities have difficulty finding and maintaining appropriate community residential or living arrangements that address their behavioural needs. These are commonly individuals who exhibit significant behaviours such as aggression, self-injury and destructiveness.
Few studies have looked at characteristics of community housing that best addresses the needs of those with developmental disabilities and exceptional behaviour, even though the social and physical environment are important characteristics to consider.  Dr. Balogh and his team aim to:
Describe the physical space and design arrangements in residences in Ontario that provide high-support housing for persons with developmental disabilities and exceptional behavioural needs.
Identify key elements required for successful placement of persons with developmental disabilities and exceptional behavioural needs.
Determine patient and staff outcomes at high-support housing models located in Ontario.
To address the objectives, this project will use a mixed-methods approach combining qualitative and quantitative data.  The qualitative data will include key informant interviews.  The quantitative component will collect information on items such as the frequency of hospital admissions and serious incidents from residences managed by our community partner agencies, which include Community Living Toronto, Reena, Bethesda, and Vita Community Living Services.